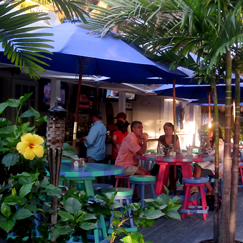 "I once was lost but now am found, was blind but now I see."
– lyrics from Amazing Grace
It's funny how 14 familiar words can take on an entirely new meaning in the blink of an eye.  My wife affectionately refers to me as "Mr. Gotta Go."  She threatens to write my epitaph simply stating, "Mr. gotta go and he did."  This concerns me.  I do have some pride and I desire something nobler be written about me.
Unfortunately, my mind has a way of keeping me very busy.  It's very clever because it keeps me busy at doing the the activities I love doing.  When I am too busy I find myself endlessly responding to all the things that are now demanding my attention.  It then appears as though life is happening to me rather than being an expression of my own creation.
After three weeks of vacationing by the sea with my family I began to get the idea that I could repose in life as well as respond to life.  This revelation came after much encouragement in the form of firm limit-setting by my mate.  I would always want to go somewhere, do something or move on to the next adventure.  This is a good character  trait if one were a camp counselor.  However, it can be quite disturbing to a partner who is just trying to decompress and revitalize herself.  She insisted on being still.  I fought her tooth and nail but she held her ground.
Then a little miracle happened.  The age old lyrics from Amazing Grace found their way into my heart and mind.  "I once was lost but now am found, was blind but now I see."  I was found because I remained still.  I did not aimlessly move about in my busyness.  I simply allowed myself to be found.  In that magical moment of repose, I repossessed myself.  I had not realized how blind I was to who I am.
I rediscovered the all-embracing and ever creating spirit that I am.  I felt my own breath.  Yet it was the same breath of the ever expanding and contracting universe that breathes life into us all.  In that common shared moment of breathing I  experienced wholeness.  I was at peace.
I am home now.  When I get lost in my busyness I find it helpful to forgive myself and remember who I am.  I then ask myself the simple question, "Does this action I am about to take originate from a place of peace within me?"  Sometimes I don't want to ask the question.  I just want to get it done.  However, that sounds a bit like "gotta go and he did."  I want my epitaph to read, "May he continue to rest in peace."
Our hope is that you take a moment to allow yourself to be found.  In that moment is the void where all creation originates.  I -being a slow learner -needed to immerse myself in the quiet for five weeks.  I understand it can be experienced in a moment's time.
Be well,
John Chupka